Create a Lasting Legacy at Chemeketa
Touch the lives of others while creating a lasting legacy. Find peace of mind through a wide variety of tax benefits while helping Chemeketa Foundation achieve its goals for current and future generations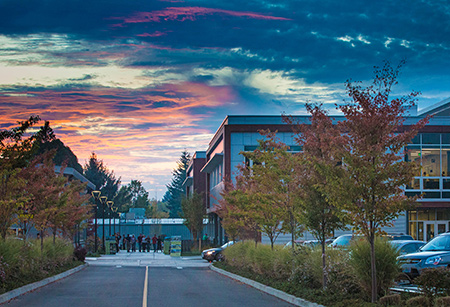 About Bequests
You may be looking for a way to make a significant gift to help further our mission. A bequest is a gift made through your will or trust. It is one of the most popular and flexible ways that you can support the Chemeketa Foundation.
more

Wednesday September 19, 2018
Finances
Hewlett Packard Enterprise Announces Strong Earnings
Hewlett Packard Enterprise Co. (HPE) announced its latest quarterly results on Tuesday, September 5. The information technology company's earnings exceeded analysts' expectations.

Hewlett Packard Enterprise reported net revenue of $8.2 billion for the quarter. This is up 3% from $8.0 billion during the same quarter last year.

"The results of the third quarter are an encouraging sign of the progress we are making," said Meg Whitman, CEO of Hewlett Packard Enterprise. "With better execution we drove overall revenue growth, exceeded our EPS targets and improved our operating margins sequentially, all while completing the spin-merge of our Software business. There's more work to do, but we are on the right track."

Net income for the quarter was $165 million, or $0.15 per share. At this time last year, the company reported net income of $2.27 billion, or $1.46 per share.

Hewlett Packard Enterprise completed a spin-off and merger of its non-core software assets with Micro Focus International Plc on September 4. This deal was a year in the making and has made Micro Focus the largest U.K.-based technology company. The spin-off will enable Hewlett Packard Enterprise to narrow its focus on servers, traditional and cloud storage and data centers. The split will allow Hewlett Packard Enterprise to focus on cloud centric and mobile enabled infrastructure for information technology.

Hewlett Packard Enterprise Co. (HPE) shares ended the week at $13.12, down 7.6% for the week.


Barnes & Noble Reveals Net Loss

Barnes & Noble Inc. (BKS) released its latest quarterly earnings report on Thursday, September 7. The bookseller's revenue declined due to fewer comparable store sales and lower promotional activity, as well as a decrease in online and Nook sales.

Revenue for the quarter was $853 million, falling short of projections of $873 million in revenue. This is a 6.6% decline in year-over-year revenue from $913 million during the prior year's quarter.

"Our first quarter earnings results improved over the prior year, as we were able to mitigate the sales decline through expense reductions," said Demos Parneros, CEO of Barnes & Noble, Inc. "We expect to improve our performance in the back-half of the year, which coupled with our focus on expense reduction, will enable us to achieve [earnings before interest, tax, depreciation and amortization] of $180 million."

Barnes & Noble posted a quarterly net loss of $10.78 million. During the same quarter last year, the company posted a loss of $14.42 million.

The company's shares took a hit after its earnings report was released on Tuesday due to failure to meet Wall Street's earnings expectations. Barnes & Noble recently partnered with Target to promote Target's college essentials in its Barnes & Noble College stores. Barnes & Noble Education, a subsidiary of Barnes & Noble Inc., has about 800 college bookstores around the country. The bookseller hopes that this partnership will enable it to compete with Amazon and increase traffic to its websites.

Barnes & Noble Inc. (BKS) shares ended the week at $6.93, down 7.6% for the week.


Kroger Performs As Expected

Kroger Co. (KR) released its quarterly earnings report on Friday, September 8. The third largest grocery retailer in the U.S. reported decreased year-over-year sales, but its second quarter performance was on track with analysts' expectations.

The company posted total sales revenue of $27.6 billion for the quarter. This is up 3.9% over revenue of $26.6 billion during the same time last year. Revenue and same-store sales growth was better than the company previously forecast.

"Our second quarter results demonstrate the progress we've made," said Chairman and CEO Rodney McMullen. "We returned to positive identical supermarket sales growth in the second quarter. We had strong growth in both loyal and total households. Traffic is up, unit movement is up, market share is up, and our customers' price perception is excellent and continues to improve."

Net income for the quarter was $353 million, or $0.39 per share. This is down slightly from $383 million, or $0.40 during the same time last year.

Amazon's recent takeover of Whole Foods sent a shockwave into the supermarket industry. Kroger is attempting to hold its position as the third largest grocery retailer in the U.S. and expand its market share, in part by incorporating lower prices on supermarket staples. The company has also entered the meal kit market in some regions. Kroger has grown its digital sales by 126%. This growth is expected to continue as the company is planning to expand its online grocery ordering to more locations by the end of the year.

Kroger Co. (KR) shares ended the week at $21.06, down 5.5% for the week.

The Dow started the week of 9/5 at 21,912 and closed at 21,797 on 9/8. The S&P 500 started the week at 2,470 and closed at 2,461. The NASDAQ started the week at 6,414 and closed at 6,360.

Treasury Yields Decline As Debt-Ceiling Increases
Yields on U.S. Treasury bonds started the week at their lowest levels since the presidential election. Due to economic and global uncertainty, investors are seeking safe haven investments such as gold and bonds.

Texas Governor Greg Abbott estimates the damage from Hurricane Harvey to be up to $180 billion. On Thursday, the Senate passed a bill that provides emergency relief for hurricane victims and also temporarily increases the debt-ceiling. The House approved the bill on Friday. The bill will now be decided by the president, who has already signaled his support for its passage. This bill rekindles discussions of removing the debt-ceiling altogether.

"From the economy's perspective and from the financial markets' perspective, removing the debt limit from that equation is probably a very, very positive thing to do," said John Bowman, a partner at Dinsmore & Shohl LLP, former counsel in the U.S. Treasury Department. "If there's no longer uncertainty about whether or not—on a date certain—the United States has the ability to pay its bills, that's a very, very strong good-government position to take."

The markets responded to the news accordingly with the yield on the benchmark 10-year Treasury note dipping from 2.15% at the start of the week to 2.06% at the end of the day on Wednesday. The yield fell further to 2.03% by Thursday at closing time as investors were looking to safe havens due to the financial climate at large.

Also on Thursday, European Central Bank (ECB) President Mario Draghi suggested that its quantitative easing policies may be ending very soon, causing U.S. Treasury yields to dip following his announcement. He hedged that the recent volatility with the Euro requires monitoring. High currency exchange rates can affect inflation, export revenue and undo the economic growth Europe has recently experienced, which may prolong the tapering of the ECB policy.

"Step by step, the European Central Bank is heading for the exit from its aggressive stance," stated in a note by Holger Schmieding, chief economist at Berenberg Bank in London. "But to which extent the ECB will reduce its asset purchases at the beginning of 2018 will depend on the exchange rate of the Euro."

The 10-year Treasury note yield finished the week of 9/5 at 2.06%, while the 30-year Treasury note yield was 2.68%.
Mortgage Rates Continue Decline
Freddie Mac released its latest Primary Mortgage Market Survey (PMMS) on Thursday, September 7. Mortgage rates fell for a second straight week and hit a new low for 2017.

The 30-year fixed rate mortgage averaged 3.78% this week, down from last week's average of 3.82%. Last year at this time the 30-year fixed rate mortgage averaged 3.44%.

The average on the 15-year fixed rate mortgage for the week was 3.08%, down from 3.12% last week. During this time last year, the 15-year fixed rate mortgage averaged 2.76%.

"The 10-year Treasury yield fell 9 basis points this week, reaching a new 2017-low for a second consecutive week," said Sean Becketti, Freddie Mac chief economist. "The 30-year mortgage rate followed, dropping 4 basis points to a year-to-date low of 3.78%."

Based on published national averages, the money market account finished the week of 9/5 at 0.67%. The 1-year CD finished at 1.36%.
Published September 8, 2017
Previous Articles